ACTION CAMERAS
Capturing footage of your epic outdoor adventure couldn't be easier. No matter what kind of adventure you're planning, there's a range of action cameras for you to consider.
Small, tough and simple to operate. Action cameras capture a wide angle, high definition, perspective of the world seen through your car, cycling helmet or surf board.
And action cameras are not limited to the adrenaline-junkies. If you simply want to document your family day out, or vacation, an action camera is great fun. Just press record.
That said, finding the right action camera can be a little confusing and time consuming. Whether you're looking for a high end 4K action camera or a cheap budget option, the choice seems endless.
When choosing an action camera, image quality is one of the most important factors. As a start point, consider frame rate rather than max resolution. The captured video will be increasingly smoother and less jerky as the frame rate increases. At least 30fps (frames-per second) if shooting in 4K and 60fps in 1080 HD is a good start point.
Depending on the planned usage, how waterproof the camera is may be a factor for further consideration. Some cameras have built in waterproofing and others have a waterproof housing. Avoid the cameras that aren't even splash-proof.
In addition, look for optical image stabilisation. Ideally, the smartphone app that comes with the camera should also offer automated editing and sharing. Beyond that there may be value in an action camera that offers GPS location, Wi-Fi, acceleration, temperature and pressure.
Depending on your chosen activity, hands-free voice control and loop-record are further enhancements worthy of consideration.
Ultimately, ease of use and performance should inform your choice of action camera. We hope that our 5 Best Of will help.
GoPro Hero6 Black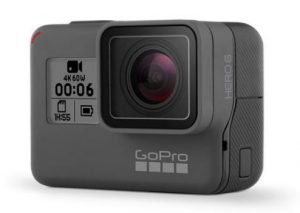 The GoPro series is recognised worldwide as the benchmark for all action cameras.
The GoPro Hero6 Black has an image processor that delivers an ultra-smooth 4K video at 60fps. The camera is waterproof down to 10m and the optional waterproof housing extends that down to 30m.
Digital stabilisation, to suppress camera shake, is excellent and voice activation makes it usable with the more extreme sports.
Video can be easily transferred and edited using the Quik smartphone app.
Olympus TG Tracker | Action Cameras
A compact, rugged and waterproof camera that delivers an all-round performance.
The TG Tracker is waterproof down to 30m and drop proof to 2m. Video resolution of 30fps in 4k and 60fps in 1080 HD are delivered via an ultra-wide 204 degree lens. Night shots are made possible with the built in LED light and you can see what's being filmed in the 3.8 inch flip-out screen.
A barometer and temperature sensor, acceleration sensor, compass and GPS tracker provide information that can be displayed with the video edit and in viewing video play back.
GoPro Hero5 Black
The Hero5 Black remains a good action camera despite being overshadowed by the more recent addition of the Hero6 Black.
The main difference between the two is the drop in video quality from 60fps in 4K to 30fps. The drop in price, relative to the Hero6 Black, more than compensates and it should be noted that the resultant video is still very smooth.
Whilst the Hero6 Black has better low light performance and a wider dynamic range, the Hero5 Black benefits from the same GPS and Voice Control Commands. The camera, is waterproof down to 10m and shares the same editing app that helps GoPro stand out from the rest. The camera also benefits from a micro USB and micro HDMI port.
YI 4K+
One of the best designed and simplest action cameras available.
The YI 4K+ delivers video resolution of 60fps in 4K, has a voice command function and the touchscreen remains sharp and crisp in sunlight.
Whilst its not waterproof and lacks GPS, the YI 4K+ offers value for money and an action camera that stands up well to the competition.
Tom Tom Bandit | Action Cameras
The Tom Tom Bandit has a rugged low profile, bullet shape, that makes it ideal for strapping to the side of a helmet.
Video resolution is only 15fps in 4K with 60fps in 1080 HD and you need to purchase a separate lens cover to make it waterproof down to 40m.
That said, it offers GPS, pressure sensors, an acceleration sensor and gyroscope that are used by the smartphone app to automatically edit video footage.
Click on the Moray Visitor Guide link below to learn more about the activities and attractions that you can capture on camera: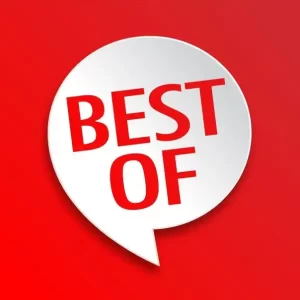 An independent guide to Moray life and landscape and the Best Of starting point for visitors to Moray.